Harvard Students to Present Design Ideas for City
|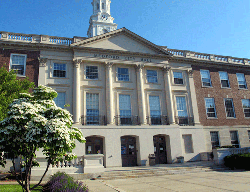 Landscape architecture students from the Harvard Graduate School of Design will deliver public presentations on Monday focused on design ideas for different parts of the city, according to information released by Mayor Michael McGlynn's office.
The presentations will take place between 9:00AM and 6:00PM on Monday, December 10 at Medford City Hall. The public is welcome to view the presentations but no public comments are being accepted.
"This is great opportunity for the Medford community as well as the Harvard students as they provide options to possibly form a regional network of vibrant and ecologically active pedestrian public space between residential neighborhoods, established commercial and green corridors, and the Mystic River," said a city statement published online.
The students' final grade will reflect what they produce on these projects. The fourteen participating students will present their projects through the use of drawings, full-scale models, and animations.
The students are in Catalytic Landscape: Body, Culture, and the Visual Environment, a graduate-level landscape architecture studio at Harvard. The studio "addresses small sites along the Mystic River in Medford." Each student design project examines a different site in Medford to create a series of contemporary landscape that join with Medford's existing open space system to "form a regional landscape network that not only provides places for community gathering and events, but also works ecologically to address issues such as flooding, stormwater runoff, and soil contamination."
– InsideMedford.com