Medford Enjoys 14th Annual Jingle Bell Festival
|
Hundreds of people enjoyed Medford's annual tree lighting at City Hall on November 28 and continued the celebration inside City Hall at the 14th Annual Jingle Bell Festival.
Sixty trees, holiday displays and other items were donated by businesses and civic groups to be raffled for the benefit of Community Family Memory Loss Center on Washington Street, Medford. An iPad, an iTouch, a flat screen TV, a motorized car and a Barbie tree were some of the more sought after items donated for the raffle.
Six Medford families opened their homes for the Jingle Bell House Tour. On Saturday evening and again on Sunday afternoon over 200 ticket holders toured the six houses. The Saturday tour was followed by a dinner reception at City Hall. The Sunday tour was followed by a pastry reception and the drawing to name the winners of the trees.
Thanks to the generous support of this community over $15,000 was raised to help The Community Family continue the support it gives to families and especially continue with the great care it gives to its Alzheimer clients.
Pictured: The Rocci girls won the Sancta Maria Lodge tree after helping their grandparents, Frank and Koreen Rocci, show their house on the Jingle Bell House Tour. Molly Fagan, a student at St. Raphael School, won the Elf on the Shelf basket. Morgan and Rory Kirby were the happy winners of the Sports Tree.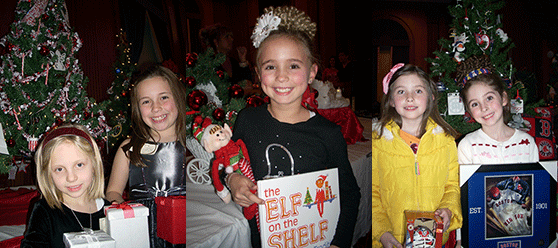 – Submitted by Jean Barry