Mustang Boys Hoops Opens Season with Win
|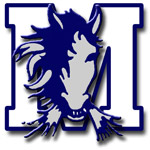 – Allison Goldsberry
The Mustang boys varsity basketball team earned their first victory of the season at home on Friday night.
Medford defeated Billerica 60-52, despite leading 40-21 at the half, according to Head Coach Anthony Faradie.
"[I] think we lost some intensity in the second half with a big lead early. We played great defense early on and only gave up three points in the first quarter," said Coach Faradie.
Billy Joseph led the Mustangs with eighteen points. Jhems Lemene and Sean Doncaster each added thirteen.
Coach Faradie called the victory a "good overall team win."
Medford is off for a week before heading to Boston Latin on Friday.