City, NAACP to Host MLK Day Event
|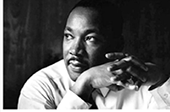 The Mystic Valley Branch of the N.A.A.C.P. and the Medford Human Rights & Disability Commissions invite you to join them to commemorate and celebrate the life of Martin Luther King, Jr. on Monday, January 21, 12:00PM, West Medford Community Center, 111 Arlington Street, Medford.
Join us for presidential inauguration viewing, light refreshments, and discussion. Please feel free to bring a dish to share.
RSVP by January 16th: Neil.osborne@mva-naacp.org or Dmcleod@medford.org.
– Information from City of Medford