Council, School Committee Resume Meetings in 2013
|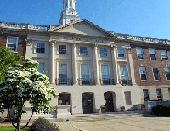 The Medford City Council and School Committee will meet again in 2013 following a holiday break.
Due to Christmas and New Year's falling on consecutive Tuesdays, the Council will not meet for two straight weeks. The Council's first meeting of 2013 will be Tuesday, January 8 at 7PM.
The first School Committee meeting of the new year will be on Monday, January 7 at 7PM.
Both meetings will take place at Medford City Hall. They are broadcast live on cable TV- Channel 16 for Comcast customers and Channel 43 for Verizon customers.
Meeting announcements and agendas for the Council are posted on www.medford.org, and on www.medfordpubicschools.org for the School Committee.
– InsideMedford.com