Tufts Art Gallery Announces Upcoming Events
|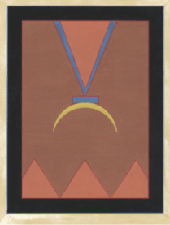 Illuminated Geographies: Pakistani Miniaturist Practice in the Wake of the Global Turn
The Tufts University Art Gallery at the Shirley and Alex Aidekman Arts Center is proud to present Illuminated Geographies: Pakistani Miniaturist Practice in the Wake of the Global Turn, featuring new works by Ambreen Butt, Faiza Butt, Murad Khan Mumtaz, and Saira Wasim, on view from January 17 to March 31, 2013. A public opening reception will take place on Thursday, January 24, from 5:30 to 8 pm, with a curatorial introduction to the exhibition at 6:30 pm.
Illuminated Geographies explores how Pakistani miniaturist painting is evolving as it enters into new contexts and how its stylistic foundation is being adapted through four very different artistic visions. The practice of Mughal miniature painting originated during the 16th century in the Mughal Empire, which spanned what is now India, Bangladesh, Nepal, and Pakistan. This art form was marked by a meticulous attention to minute detail, lush jewel tones, epic subject matter, and diminutive scale. As the Mughal Empire fell into decline, so did this style. Today we are experiencing a renaissance in this mode of artistic expression, due, in large part, to the National College of Arts in Lahore, Pakistan (NCA), which since the 1980s has taught this traditional practice of wasli paper- and brush-making techniques, paint mixing, narrative style, and iconography.
Illuminated Geographies focuses on four artists trained at the NCA now living outside of Pakistan who are pushing the boundaries of miniaturist practice in different directions. New works by these four artists — Ambreen Butt, Faiza Butt, Murad Khan Mumtaz, and Saira Wasim — all deal with themes of cultural hybridity as the artists address the political, social, and cultural realities of both Pakistan and their present locations. They draw parallels between divergent traditions and allow for different perspectives to occupy a single space. Despite a shared origin in Pakistan, the subject of Illuminated Geographies is transcultural in nature— reaching both across and beyond cultures.
Through the beauty inherent in the miniature tradition, these artists ask difficult questions and confront us withtherealitiesoftheworldwelivein. SairaWasim,forexample,critiquesAmericancapitalisminthevisual language of political cartoons, while Faiza Butt addresses the representation of Muslim men in the London media and the aesthetic qualities of the Urdu and English languages. Ambreen Butt questions gender roles, cultural differences, freedom of expression, and human rights in works that juxtapose different narratives and reflect on the relationship between word and image. Murad Khan Mumtaz's work addresses themes of western powers, the American landscape, globalization and colonialism through miniaturist paintings and altered Passports.
This exhibition has been guest curated by Justine Ludwig, adjunct curator at the Contemporary Arts Center, Cincinnati. A multi-authored publication will be co-published by the Tufts University Art Gallery and The Contemporary Arts Center, Cincinnati, which organized Realms of Intimacy: Miniaturist Practice from Pakistan (on view September 2011 to January 2012; featuring Ambreen Butt, Faiza Butt, Imran Qureshi, Nusra Qureshi, and Saira Wasim). Translocation: Contemporary Miniaturist Practice Out of Pakistan, published in March 2013, includes essays by Iftikar Dadi, Salima Hashmi, Ayesha Jalal, Justine Ludwig, and Virginia Wiles, as well as profiles on the six artists in the two exhibitions and an additional ten Pakistani artists working internationally trained at the NCA. London-based artist Faiza Butt will speak about her work at Tufts on February 28 at 4 pm.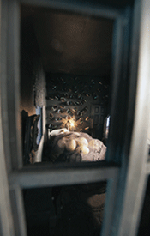 Stacy Steers: Night Hunter
The Tufts University Art Gallery at the Shirley and Alex Aidekman Arts Center is proud to present Stacey Steers: Night Hunter, on view from January 17 to March 31, 2013. A public opening reception will take place on Thursday, January 24, from 5:30 to 8 pm, with a spotlight tour of the exhibition at 7:15 pm.
Meticulously crafted from approximately 4,000 handmade collages and incorporating images of actress Lillian Gish (1893-1993) taken from silent- era live-action cinema, Stacey Steers' 16-minute film, Night Hunter, evokes a disquieting dream scape drawn from allegory, myth, and archetypes. Transitions, both biological and metaphorical, emerge as central themes in the film.
Night Hunter took over four years to complete. Steers created approximately eight distinct, handmade collages for each second of screen time. This "hand- made" film was shot in 35mm color on an Oxberry animation stand. Music and sound for the film was composed by Larry Polansky, a professor of music at Dartmouth College.
Steers, who teaches film studies at the University of Colorado, Boulder, creates rich, timeless, and imaginative environments through the combination of eighteenth- and nineteenth-century engravings, illustrations, photographs, and early silent films. In some instances Gish is cut out of specific scenes and reconfigured within collage settings, while collage materials are applied directly to printed film frames in others. The subsequent fluidity of character becomes a critical element in the texture of the film and the identity of the principal character.
The Tufts exhibition includes a large-scale projection of the film, eight preparatory collages, and Night Hunter House, a mixed-media sculpture from 2012, inside which an excerpt of the film appears on a mini-HD-TV screen in each of the three-foot high dollhouse's ten rooms.
This exhibition was curated by Tufts University Art Gallery Director Dr. Amy I. Schlegel. An interview with Steers and Schlegel appears on the Gallery's website. Night Hunter was exhibited at the Denver Art Museum in 2011 and at the Hood Museum of Art, Dartmouth College, Hanover, NH in 2012.
The artist will be in conversation with Tufts Professor of Philosophy Nancy Bauer on March 14 at noon at the Tufts Center for the Humanities, Fung House, 48 Professors Row, Medford.
For a full list of events, visit http://artgallery.tufts.edu/calendar/.
– Information and photos from Tufts University Art Gallery