Mustang Boys Hoops Earns New Year's Eve Win
|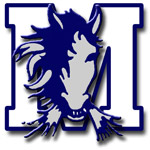 – Allison Goldsberry
The Medford High School boys varsity basketball team closed 2012 with a 64-55 home win over Concord-Carlisle on New Year's Eve.
According to Head Coach Anthony Faradie, senior Jon Pires was the leading scorer with fifteen points. Jhems Lemene added thirteen points, James Hawkin added eleven, and Sean Doncaster and Billy Joseph each scored ten points.
"Jonathon Pires is really playing well for us and has been our leading scorer the last three games," said Coach Faradie.
Faradie praised the Mustang defense for holding off Concord-Carlisle, despite the opponent's "serious size in the front court," with four players well over six feet, including a 6'7″ player.
"I thought our pressure did a pretty good job taking them out of their offense and we were able to turn them over a lot, which resulted in points on the break," said Coach Faradie.
Faradie also recognized specific players for their contributions.
"Owen Healey continues to play great defense for us and consistently makes good decisions. I thought Jhems Lemene and Billy Joseph really did a great job defensively in the passing lanes and getting easy transition buckets," said Faradie. "Sean Doncaster is Sean Doncaster, he's just a really good player that controls this team. James Hawkins has been very active for us on the glass, making good passes, and blocking a lot of shots."
It's not just the starters who earned praise, either, with Ryan Covelle and John Ferarra have "[giving] us solid minutes off the bench," said Coach Faradie.
Medford is currently 5-1 heading into Friday's home game against Pope John.