MHS Alumni Hockey Game January 19
|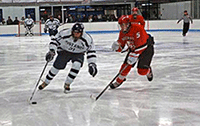 On Saturday, January 19, 2012 Medford High School alumni hockey players are invited to participate in a game. The game is taking place at 3:30PM at LoConte Rink in Medford.
Participants are also invited to attend a party after the game at the Medford Elks on Washington Street. Friends and family are welcome at both the game and the party afterwards.
The cost to play in the game is $65. To RSVP or for more information email markbates12@comcast.net.
– InsideMedford.com