Alfred "Fred" Pompeo has passed away just shy of his 95th birthday. Pompeo was an icon in Medford, serving as a guidance counselor, School Committee member, City Councilor, and Mayor. A World War II veteran and businessman, he was named Citizen of the Year in 1996. He completed over sixty years of public service after retiring from the Medford School Committee in 2009.
InsideMedford.com is re-posting a story about Pompeo's 90th birthday in 2008, when his School Committee colleagues surprised him with a cake.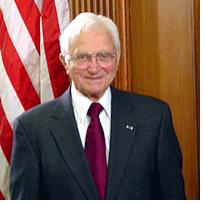 School Committee member Fred Pompeo, pictured at left, has served as a public official in Medford for nearly 60 years. Photo courtesy Medford School Committee.
- Allison Goldsberry
School Committee member Fred Pompeo had a good one-liner when his colleagues surprised him with a birthday cake for his 90th birthday at Monday night's School Committee meeting:
"We should do this again next year!" Pompeo joked, after being presented with a cake and present.
Pompeo, a former school teacher, POW, and father of eight was honored for his sixth decade of public service in Medford. Pompeo has served on the School Committee and has also served as mayor.
"It was a long road, but it was a good road…Getting to 90 wasn't easy," said Pompeo.
Pompeo, who also has sixteen grandchildren, spent four years in the army, including six months as a prisoner of war after he was injured during World War II's Battle of the Bulge. He said the years he has spent on the School Committee are among the best he has had in his long life.