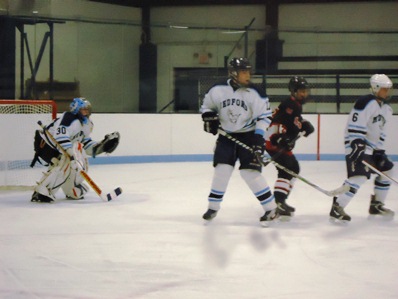 The Medford High junior varsity hockey team picked up a recent win versus Greater Boston League opponent Everett High. The Mustangs skated to a 9-2 victory. According to Coach Josh Glionna, it was a balanced scoring attack for Medford, with seven different Mustangs contributing with a goal. Joe Vienneau and Matt MacDonald added two goals each. In goal, Jonathan Haley and Matt Santos combined for the victory thanks to the help of defensemen Michael Cecchini, Cam Riley, Max Porrazzo, and Brendan Sheehey.
The Mustangs also recently edged Winchester High 3-1. Medford got the scoring started in the first period when Sean Allen stole the puck in the defensive zone, skated past both Winchester defensemen, and scored on a breakaway with eight seconds left in the period. After Winchester tied the game 1-1 in the second period, the Mustangs were able to pull ahead for good mid-way through the third period. Andrew Cronin dumped the puck into the corner from the neutral zone and, fortunately for Medford, the puck bounced oddly back to Cronin in front of the net, and he was able to slide the puck past the Winchester goalie. The last couple minutes of the game saw Medford shorthanded because of a too many men on the ice penalty. During the Winchester power play the Sachems got many quality shots on Mustang goalie Jonathan Haley but Haley turned them all aside. Alex Smith iced the game for Medford with a shorthanded empty net goal in the closing seconds.
The JV Mustangs are back on the ice when they host Everett January 10th at 4PM at LoConte rink.
Meanwhile, the varsity team posted some recent GBL wins against Cambridge and Somerville. They are back in action on home ice when Everett visits LoConte on Wednesday, January 9 at 7:00PM.
- Photos and information from Coach Josh Glionna