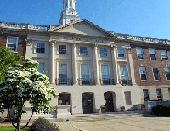 - Allison Goldsberry
The state has relieved the city of a $1.2 million debt, according to a statement released by Medford Mayor Michael McGlynn.
According to the statement, the Governor signed into law a bill sponsored by Senator Pat Jehlen, Representative Paul Donato, Representative Carl Sciortino and Representative Sean Garballey on behalf of a home rule petition offered by Mayor McGlynn and the City Council.
Medford used the money in 2011 to help balance the fiscal year 2012 budget. The money was taken from a $6.5 million surplus in the Water and Sewer Enterprise account.
"…This was in order to save approximately 20 jobs and secure city services in the FY 12 budget," said Mayor McGlynn in a statement. "Our legislative delegation, the Governor, Speaker of the House and Senate President supported Medford's effort to save 20 jobs during the worst economic recession since the great depression by originally passing a Home Rule Petition. Borrowing from the surplus is allowed by state law. However, an amendment to Medford's original home rule petition required the city to repay the enterprise account, and therefore negating the intent of the petition."
Mayor McGlynn also said raising water and sewer rates to replenish the account "doesn't make any sense."
According to McGlynn, Medford has a favorable bond rating. Mayor McGlynn said the city maintains and A1 bond rating and was recently upgraded to "positive" from stable.