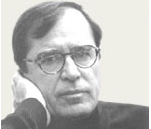 Medford native Paul Theroux, a prolific writer, has shared some of his own travel adventures and thoughts on places he would like to see in a recent article for The New York Times.
Theroux, who, according to his website, left Medford "at the first chance I had," says the maxim "never take the same road twice," is actually bad advice.
"A return journey is often a thrill, as it was for me in the now-peaceful Vietnam and a blossoming Costa Rica and the joyful noise of my 50th high school reunion," he wrote. Theroux graduated from Medford High School in 1959.
- InsideMedford.com