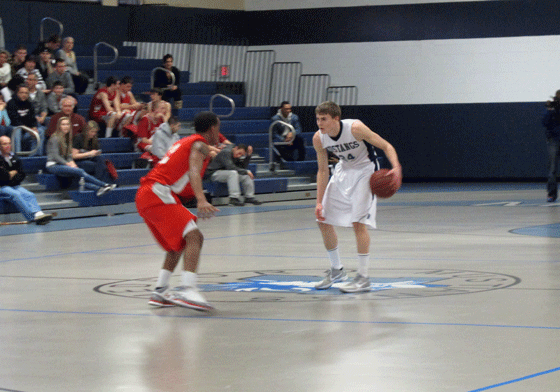 Senior guard Sean Doncaster scored a team and season-high 31 points Monday night.
- Allison Goldsberry
Following two close losses to Somerville and Concord-Carlisle, the Mustang boys varsity basketball team is looking for a win against Malden on Wednesday night.
The Mustangs lost a heart-breaker to Concord-Carlisle on Monday night, 58-56.
"We didn't come to play last night in the first half. We showed a lack of energy and focus. We weren't motivated to play. We finally woke up at half time and went out and cut the score 44-36 at end of third quarter. We made a good push towards the end of the game and had two opportunities at the end to win the game but it just didn't happen," said Coach Anthony Faradie.
Senior point guard Sean Doncaster scored an astounding 31 points, all of which came after of the first quarter, in which he has held scoreless. That is the second-highest amount of points scored in a game during Coach Faradie's six year tenure. Former Mustang Andrew White, now a junior captain at Salem State, scored 34 points against Winchester in 2010. White leads his Salem team with minutes played (29.6) and averages 10.5 points per game, said Faradie.
In the GBL opener against Somerville last week, Doncaster scored 21 points, 15 of which came in the fourth quarter. Coach Faradie credited Ryan Covelle for doing "a really good job" at the point guard spot when his teammates were in foul trouble.
Despite the hustle, Somerville just made better shots.
"After watching the film, I thought our guys played pretty hard. Somerville just made more shots than we did and just shot the ball a lot better," said Coach Faradie.
Wednesday's Malden/Medford match up starts at 7PM at Medford High. The Mustangs are currently 6-3 overall and 0-1 in the GBL.