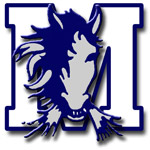 - Stephen Freker, Medford Daily Mercury/Malden Evening News
They put their foot down hard on the gas pedal and never really took it off until it was all over.
Leading from start-to-finish, head coach Anthony Faradie's Medford High boys basketball squad earned a much-needed win in a highly-anticipated Greater Boston League showdown between two teams many believe have a very good chance to erase long GBL title droughts this season.
On Wednesday night, it was Medford's turn to get one-up in this two-game season rivalry, as the Mustangs took a loud, 81-67 victory.
Medford improved to 7-3 overall, 1-1 GBL with the win at its regular season midpoint while visiting Malden went to 6-3 overall, 1-2 in the GBL.
Senior Sean Doncaster was the best player last night on both ends of the court, leading all scorers with 25 points and also was a force defensively.
Medford led 21-9 at the end of first quarter, 40-24 at the half, and never looked back.
Owen Healey had a big game with 15 points, hitting a trio of big three-pointers. Billy Joseph also hit three "threes" for nine points and Jonathon Pires added 11 points. James Hawkins, Jhems Lemene, and Ryan Covelle all had 8 points for Medford High.
The Mustangs are on the road against Cambridge and Everett before a three game home stand that begins with Burlington on January 24.