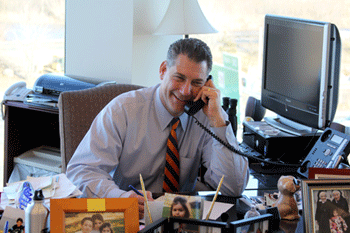 Plan to make donations to local shelters
Middlesex Sheriff Peter J. Koutoujian and Baltimore City Sheriff John W. Anderson spoke by phone Friday and agreed to a friendly wager on the outcome of Sunday's Patriots-Ravens AFC Championship Game.
"It was great to speak with Sheriff Anderson. I always enjoy having the opportunity to talk with my colleagues from other parts of the country," said Sheriff Koutoujian, pictured at right on the phone with Anderson. "He was clearly optimistic the Ravens will win Sunday, but I'll take Tom Brady and Bill Belichick any day – especially this Sunday."
Should the Patriots win, Sheriff Anderson has pledged to send Maryland Crab Soup from Bo Brooks Restaurant to Middlesex County, while if the Ravens win Sheriff Koutoujian has committed to send New England Clam Chowder from Legal Sea Foods to Baltimore.
Each Sheriff plans to share half of their winnings with staff and donate the other half to a local shelter. Sheriff Koutoujian plans to send the Crab Soup from Baltimore to the emergency shelter for REACH Beyond Domestic Violence.
- Information and photo from Middlesex Sheriff's office