– Allison Goldsberry
The boys varsity hockey team earned a decisive 6-2 win over Everett on January 9. Medford is now 2-0 in the GBL.
The Crimson Tide did manage to score early. Wasting no time, Everett put the goal past starting goalie AJ Ansaldi within the first 12 seconds of the game. Medford responded a few minutes later when Jake Moore just barely made it past the Everett goalie with assists from Brendan Hussey and captain Jake Porrazzo. The Mustangs' second goal came when DJ Galvin buried it deep into the Everett net with assists by Ross Watson and Porrazzo. Medford led 2-1 at the end of the first but the Mustangs were far from done.
The Mustangs were scoreless for most of the second period until scoring two goals in the last five minutes of play. With just 4:53 left, Moore sniped it into the Everett net with an assist by Will Brennan. With under three minutes left, Paul Zizzo scored Medford's fourth goal, with assists by Tommy Calauitti and Hussey.
The only action Everett would see again was a goal about halfway through the last period. Desperate, Everett called a time out, giving both teams time to construct a game plan. With just 1:18 to go, Ross Watson scored a goal to be remembered, with assists by Porrazzo and Brennan. Finally, with just 14 seconds left, Kevin Nazzaro nabbed the final goal of the game, with assists by Calauitti and Modugno.
Coach Steve DeBenedictis was proud of his team's effort.
"It's always great to get a league win. GBL wins are the most important to us," said Coach DeBenedictis.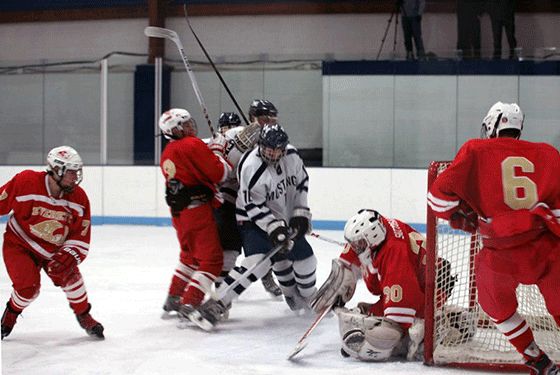 Junior Varsity Team Picks up GBL, Non-League Wins
The Medford High junior varsity hockey team earned a 9-2 home win over Everett on January 10. The Mustangs got the scoring started when Alex Smith, Joe Vienneau, and Andrew Modugno combined for three goals in one shift mid-way through the first period. The line of Smith, Vienneau, and Modugno ended the game with a combined eight goals. Domenic Ramasci added a highlight reel goal, scoring on a breakaway. Jonathan Haley and Matt Santos combined for the victory in goal.
The JV traveled to Reading for a Saturday afternoon matinée on January 12 and came up on the short end of the scoreboard, losing 8-3 to the hockey powerhouse. Reading got off to a fast start, scoring five first period goals. The Mustangs tried to climb back thanks to two goals by Mike Barifuldi and a goal by Mike Cangiano but Reading proved to have too much offense, adding three goals in the third period.
The Mustangs picked up a 10-1 home victory against Pope John on January 17. The defense did the majority of the scoring. The defense combined for six goals; a hat trick by Michael Cecchini, two goals from Cam Riley, and one goal from Vienneau. Forward Smith also added a hat trick and forward Paul Howard rounded out the scoring with one goal. Haley and Santos shone in net, stopping all but one of Pope John's scoring chances.
Next up was a trip to Somerville on January 18. The Mustangs continued their winning ways, skating to a 9-6 victory. Somerville got the scoring started seven minutes into the game but less than a minute later the Mustangs add two goals of their own to go up 2-1, and never looked back. The JV Mustangs used a balanced scoring attack as eight different skaters scored, with Modugno adding two goals.
The junior varsity return to the ice Thursday, January 24 against Everett. Face off is at 4pm.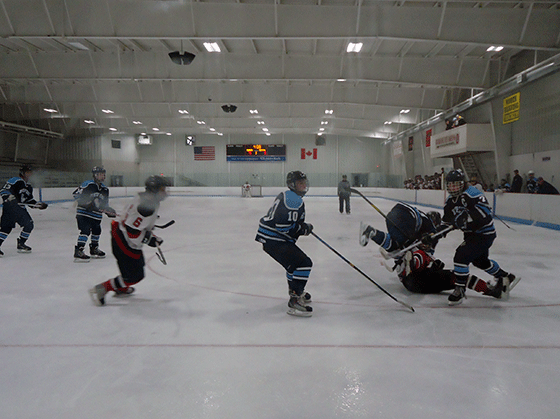 Courtney Harris of the Mustang News contributed to varsity report. Photos from MHS Hockey FANatic. JV Coach Josh Glionna provided JV information and photos.