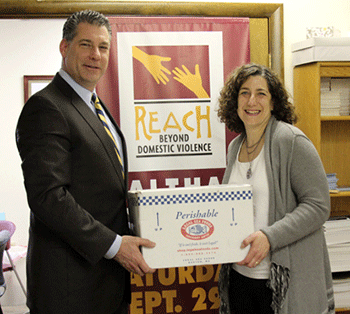 Koutoujian Sends Clam Chowder to Baltimore, Local Waltham Domestic Violence Shelter
Middlesex Sheriff Peter J. Koutoujian visited the office of REACH Beyond Domestic Violence Tuesday, January 29 to present the organization with a donation of New England Clam Chowder from Legal Sea Foods.
The clam chowder will go to victims of domestic violence staying in REACH's emergency shelter.
The donation was sparked by a friendly wager between Sheriff Koutoujian and Baltimore City Sheriff John W. Anderson on the outcome of the NFL's AFC Championship Game between the Patriots and Ravens, with the proceeds going to a local domestic violence organization of the winner's choosing. Sheriff Anderson on Friday passed on his winnings – New England Clam Chowder from Legal Sea Foods – to the House of Ruth Maryland in Baltimore.
"REACH is an organization with whom I have had a long affiliation. While I may have lost the wager, there is no reason both REACH and House of Ruth Maryland should not be winners," said Sheriff Koutoujian. "These organizations are on the front lines everyday keeping women and children safe in our communities and I am more than happy, despite the Patriot's loss, to use this as an opportunity to assist with the important work they do."
"The chowder is wonderful and will be enjoyed but what is even more important is having the discussion about domestic violence and how to end it through education and intervention," said REACH Executive Director Laura Van Zandt. "Sheriff Koutoujian has long been a supporter of REACH and we know he will help us keep this discussion going."
REACH serves 6,000 people a year through intervention and prevention services. In 2012, REACH's 24-hour hotline received 2,017 calls from people seeking shelter, advice and safety planning.
To learn more about REACH, its mission and how you can volunteer or make a donation please visit www.reachma.org.
- Information and photo from Sheriff Koutoujian's office