'End Distracted Driving' Campaign to Launch in Medford
|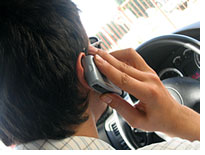 – Allison Goldsberry
Medford has been selected as a lead community in a statewide campaign to end distracted driving, according to information released by Mayor Michael McGlynn's office.
The campaign is led by the Massachusetts Academy of Trial Attorneys (MATA). MATA is holding two press conferences next week to announce the campaign, one at the State House and one at Medford High School.
According to information released by Mayor McGlynn, MATA President Timothy C. Kelleher, III, and Philadelphia attorney Joel Feldman, will announce the MATA's role in bringing the program to local high schools throughout the state. Feldman started the program after losing his 21-year-old daughter to a so-called distracted driver in 2009. Feldman and Kelleher will debut a national PSA about the dangers of distracted driving.
Mayor McGlynn and School Superintendent Roy Belson will attend the press conference at the State House on Monday, and both will host a similar event at Medford High School on Tuesday. Medford High School students will attend the event.
In 20101, the Medford City Council passed a ban on texting while driving on Medford's streets. The first offense is $100, the second offense is $200, and the third offense would result in a $300 fine.