Zonta Club of Medford Hosts Chocolate Auction
|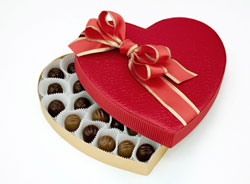 The Zonta Club of Medford invites the public to its 7th annual Valentine's Day Chocolate Auction on Tuesday, February 5, beginning at 6:30 p.m., in the lobby of Lawrence Memorial Hospital.
We will begin by serving hot and cold hors d'oeuvres. A chocolate fountain will be one of the main features of the evening, as we auction chocolates, baked goods, and other items inspired by chocolate. This will all be accompanied by live piano music. The evening will include both a live and a silent auction, and several local celebrity auctioneers. The auction is a fundraiser to support the work of the Zonta Club of Medford, both locally and through the Zonta International Foundation. Tickets are $15 per person.
Zonta International is a global service organization working to advance the status of women through service and advocacy. Nearly 33,000 members belong to more than 1,200 clubs in 68 countries. The Medford club was chartered in 1953.
Locally, the Medford club provides scholarships and community grants. Past recipients include the Medford Family Life Education Center, Hallmark Health, the West Medford Community Center, Eastern Massachusetts Literacy Council, and The Medford Public Library.
The Zonta International Foundation, the philanthropic arm of Zonta International, raises and distributes funds for Zonta International programs, including Amelia Earhart fellowships in aero-space related sciences and engineering, Jane M. Klausman Women in Business Scholarships, and Young Women in Public Affairs Awards.
For tickets and further information, please contact Frances Cooper-Berry at 781-483-3809.
– Information from the Zonta Club