Boys Basketball Team Defeats Somerville
|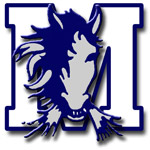 – Allison Goldsberry
The Mustang boys varsity basketball team earned a key 58-49 home win over Somerville on Tuesday night. Medford remains undefeated on its home court this season.
Senior Sean Doncaster had a game-high nineteen points. Jon Pires added nine points while Owen Healey and James Hawkins each had eight. Billy Joseph contributed seven points for the Mustangs while Jhems Lemene chipped in with four and Ryan Covelle added three.
"I think it was one of the best games we put together all year. It was a grind out type of game," said Coach Anthony Faradie.
Somerville had cut Medford's lead to just one point in the fourth quarter. Medford took advantage of two technical fouls on the Highlanders. Doncaster was able to go 4-4 at the stripe, which extended Medford's lead to seven points.
"Somerville has some really good shooters and they hit some really tough three point shots which kept them in the game," said Coach Faradie. "I thought that we did a pretty good job on their star Jon Lubin, who only had 12 points. Jon Pires had the assignment of covering him and did a great job."
Both Pires and Doncaster didn't come out of the game and played for the entire thirty-two minutes.
Medford, 9-6, is one win away from clinching a state tourney berth. The Mustangs travel to GBL rival Malden on Friday.