'Winter Baseball Warm Up' Starts Sunday
|
Medford Babe Ruth players can get a jump on the Spring 2013 Baseball Season
Winter Baseball Warm up for 12-15 year-olds
8 Sundays of instruction, skills practice and conditioning provided indoors by David Valdez and staff of the Valdez Baseball Academy and 1st Place Sports Complex.
Every Sunday in February & March (except Feb 24th) from 10am – 11:30am. 10am – 11am Baseball Skills & Practice (hitting, fielding, pitching). 11:00am – 11:30 am Conditioning.
Only $50 per player (make checks payable directly to Valdez Academy). Special situations contact Bob Ferragamo at 781-393-4949.
To register for the clinics just show up Sunday at 10am at Valdez Baseball Academy/1st Place Sports Complex at 4000 Mystic Valley Parkway, Medford (within the Gold's Gym).
Note: To register on-line for the Medford Babe Ruth Spring 2013 baseball season and for more information about the Spring, Summer and Fall programs offered by Medford Babe Ruth go to www.medfordbaberuth.com.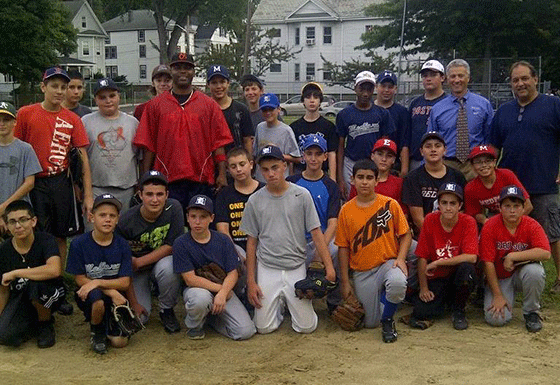 Medford Babe Ruth players with Dave Valdez last fall. Courtesy photo.
– Information from League President Stephen Pompeo