Dates Set for Municipal Election
|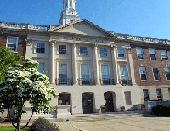 It's 2013, and time for another municipal election.
Every two years, voters head to the polls to elect the city's leadership- Mayor, City Councilors, and School Committee members.
A tentative calendar includes the following important dates:
– Nomination papers are available on June 18, 2013 and July 25, 2013 is the last day to obtain nomination papers
– July 30, 2013 is the final day to submit nomination papers and August 13, 2013 is the last day to file certified nomination papers with the City Clerk
– August 15, 2013 is the last day to file objections or to withdraw nominations and August 28, 2013 is the last day to register for the primary
– A primary is scheduled for September 18, 2013. The city usually files to skip the primary due to a small number of candidates and to save money. September 11, 2011 was the last time a municipal primary was held in Medford
– The municipal election is scheduled for Tuesday, November 5, 2013
The municipal election calendar will be before the Medford City Council for approval during its regular meeting on Tuesday, February 5.
– InsideMedford.com