Malden/Medford Collaborative Parishes 5th Annual Collaborative Lenten Mission
|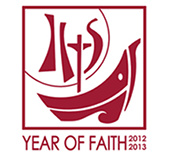 Please mark your calendars!! Four of the parishes in Medford and Malden will be participating in a Lenten Mission with our fellow parishes in our collaborative.
The Mission will take place on four Tuesday evenings in Lent. It will begin on Tuesday, February 19, 2013, and rotate among the collaborative parishes (see schedule below).
All Mission evening programs will begin at 7:00PM and be followed by light refreshments. The locations of the programs are as follows:
– February 19, 2013, Sacred Hearts, Malden
– February 26, 2013, St. Joseph, Medford
– March 5, 2013, Immaculate Conception, Malden
– March 12, 2013, St. Francis, Medford (Reconciliation Service)
Please mark your calendars and plan on joining us for a wonderful and satisfying Lenten journey!
For further information, or if you should have any questions, please don't hesitate to call 781-396-0423 (weekdays between 9AM and 4PM) or send an e-mail to stjosephparishmedfordma@msn.com.
– Submitted by Betsy Pesce