Boys Hoops Defeats Cambridge for 1st Time Since '99
|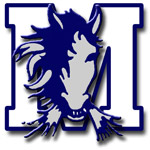 – Allison Goldsberry
The Mustang boys varsity basketball team earned a huge GBL win on Tuesday night and qualified for the state tournament in the process.
Medford edged Cambridge, 50-48, and it was the first time since 1999 the Mustangs defeated the Falcons, according to Head Coach Anthony Faradie. Senior guard Sean Doncaster, who led his team with twenty-one points, got the game-winning shot with just eight seconds left.
"Barn burner win…great team win," said Coach Faradie.
Senior Jon Pires added ten points in the home win while Jhems Lemene contributed eight.
"I thought we got huge contributions off the bench from Pat McTague, who played great defense," said Coach Faradie. "Ryan Covelle gave us big minutes playing solid defense as well."
Medford remains a perfect 8-0 on its home court. The Mustangs are 10-7 and host Everett on Friday, which is Medford's Senior Night.