Police Search for Robbery Suspect
|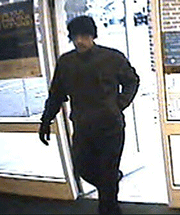 – Allison Goldsberry
The Medford Police are searching for a suspect who allegedly robbed East Cambridge Savings Bank on January 31.
Police tweeted about the robbery on February 4 and released the picture at right.
Anyone with information is asked to contact the Medford Police at 781-391-6765.
No other details have been released at this time.
East Cambridge Savings Bank is located at 243 Salem Street in Medford.