Valentine's Open House at Mystic Art Gallery Feb. 16
|
Event Postponed from Feb. 9 to Feb. 16 Due to Storm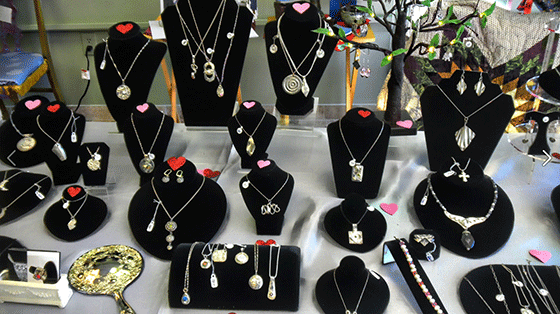 Come party with the artists and find the perfect Valentine's Day gift for your sweetheart!
Check out jazzy jewelry from several different jewelers, impressive paintings in oil and watercolor, fabulous photographs from various photographers, harmonious handicrafts in fabric, pottery, and mosaic, and happily handmade cards of local scenes!
Food and drink will be abundant. The Valentine's Open House is taking place on Saturday, February 16 from 12PM-4PM.
Mystic Art Gallery is operated by local artists and artisans in and around the Medford, Massachusetts area.
We invite visitors to Medford, as well as our friends and neighbors, to drop in and discover what the local arts community has to offer.
Our collection includes fine paintings, photography, sculpture, hand-crafted jewelry, crafts, fiber arts, and many more truly unique works of art.
The gallery is located at 14 Main Street in Medford Square (behind Citizens Bank). The hours of operation this month are Thursdays 11AM-3PM, Fridays 11AM-5PM, and Saturdays and Sundays 12PM-4PM.
– InsideMedford.com