Green Line Construction Moves Forward
|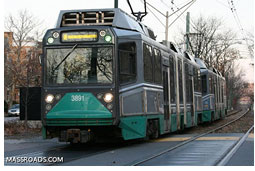 Photo by Alexander Svirsky, MassRoads.com.
– Allison Goldsberry
Phase 1 of the Green Line Extension to Medford and Somerville has received its official notice to proceed, according to project officials.
Barletta Heavy Division, Inc is the contractor for Phase 1 of the MBTA Green Line Extension Project. A public "meet and greet" with the contractor will be held prior to construction to review the schedule and other details, according to an email from MassDOT.
The first phase of construction includes the reconstruction of two bridges, the Harvard Street railroad bridge in Medford and the Medford Street railroad bridge in Somerville. Both bridges will be rebuilt to accommodate the existing Commuter Rail tracks and the new Green Line tracks.
Reconstruction of the Harvard Street bridge began in December. Work on the Medford Street bridge will happen in the spring.
A building owned by the MBTA will also be torn down to clear a way for the eventual extension of Green Line tracks from Lechmere Station. The building is located at 21 Water Street in East Cambridge, according to the MassDOT, and will be torn down "later in 2013."
The first phase of construction will cost $12.9 million.
Currently, two stations are planned for Medford, one in Ball Square on the Medford/Somerville line and another in the Medford Hillside neighborhood on College Avenue. The once $600 million project is now estimated to cost $954 million. And that's just for six planned stops. The seventh, a stop at Route 16, could cost another $130 million, pushing the total cost of the project to $1.12 billion.