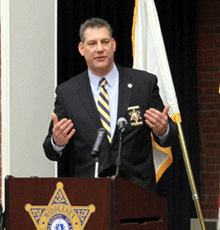 Middlesex Sheriff Peter J. Koutoujian took the oath of office as Sheriff during a ceremony held Wednesday, February 13, at Bentley University's LaCava Center.
During his inaugural address, Sheriff Koutoujian pledged to continue initiatives he has begun to replace temporary corrections officers with academy-trained officers, to rebuild the ranks of middle-management by providing officers with more opportunities for advancement, and to improve and expand inmate programming in an effort to reduce recidivism.
He also pledged to continue efforts to boost correction officer wellness, building on the success of a first-of-its-kind national Conference on Correction Officer Wellness co-hosted by the Middlesex Sheriff's Office this past December.
Sheriff Koutoujian is just the 30th person to serve as Middlesex Sheriff since the office was established in 1692.
- Information and photo from Middlesex Sheriff's Office