Mayor to Deliver 'State of the City' Speech March 6
|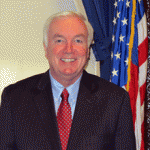 Medford Mayor Michael McGlynn will deliver a "State of the City" address on Wednesday, March 6.
According to information released by the Mayor's office, the speech is taking place at 6:00PM in the Howard Alden Memorial Chamber at Medford City Hall. The event is open to the public.
A reception will follow the speech, according to the city website.
Mayor McGlynn, first elected in 1987, is in his thirteenth consecutive two-year term. He is the longest-serving mayor in the state.
– InsideMedford.com