Known around the Northeast for its commitment to authentic Mexican flavors and fun, Margaritas Mexican Restaurant is introducing the "Nuevos Platos Mexicanos," an exciting, interactive menu that features 10 mouthwatering new dishes.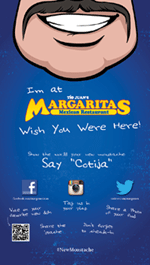 The 23-unit restaurant chain, known for its colorful décor, namesake margaritas and unique sense of humor, will debut the new menu starting Feb. 19. The "Nuevos Platos Mexicanos" menu, which in English means "New Mexican Dishes", is a limited-time offer that provides guests a new way to experience traditional Mexican flavors – from unexpected drinks to classic entrees – that thrill the taste buds. These fresh, made-to-order dishes are presented in the distinctive Margaritas style, offering unique flavors and ingredients that will surpass guests' expectations of Mexican food. A sneak-peek of the new items include:
- The Pepino Margarita: Pepino, meaning "cucumber" in Spanish, is muddled together with mint leaves and mixed with habanero lime juice, Sauza Blue tequila, triple sec and Squeeze to deliver a refreshing experience that tastes like it is straight from the beaches of San Carlos.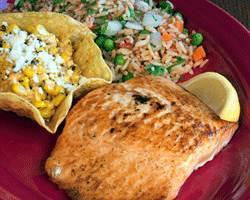 - Habanero Lime Salmon (pictured): Fresh salmon with a traditional habanero lime glaze served with Mexican rice and Margaritas newest side dish Mexican corn, a mix of fire-roasted corn off the cob sautéed with Cotija cheese and chipotle aioli.
- Chicken Chimichurri Fajita: Tender grilled chicken topped with house-made chimichurri sauce served on a sizzling platter with white corn tortillas, beans and Mexican rice.
Adding an entertaining element, the "Nuevos Platos Mexicanos" menu also doubles as a mask featuring a mustache so guests could hold it up to their face, take a picture while saying "Cotija" (a Mexican cheese) and share with friends on Facebook, Twitter and Instagram. Margaritas will also be giving away fake mustaches to enthusiastic guests while supplies last.
"The new menu really represents what Margaritas is all about – fresh, new, innovative Mexican-inspired dishes with a fun, quirky twist that makes people smile," said Hugo Marin, President of Margaritas Mexican Restaurant. "We are always looking to spice things up at Margaritas and the 'Nuevo Platos Mexicanos' menu does just that."
To sweeten the deal, Margaritas' "Circle of Friends" members can earn an extra 10 reward points when they order food items from the new menu. Guests can sign up for the program and receive great deals any time they visit Margaritas or online at http://www.margs.com/circle_of_friends.
Founder John Pelletier, along with his brother and cofounder, Dave, visit Mexico frequently to discover new culinary opportunities and to update the restaurant décor. With every trip, they return with new ingredients, inspired artwork, flavors and recipes. The newest "Nuevos Platos" menu reflects the Pelletier brothers' commitment to fresh, new offerings. Founded in 1986, Margaritas has 23 locations throughout Massachusetts, New Hampshire, Maine, Connecticut and Pennsylvania. Margaritas is dedicated to ensuring that each restaurant reflects present-day culture with a respect for Mexican history.
- Information and photo from Margaritas