Medford Arts Council Awards Over $17K for Projects
|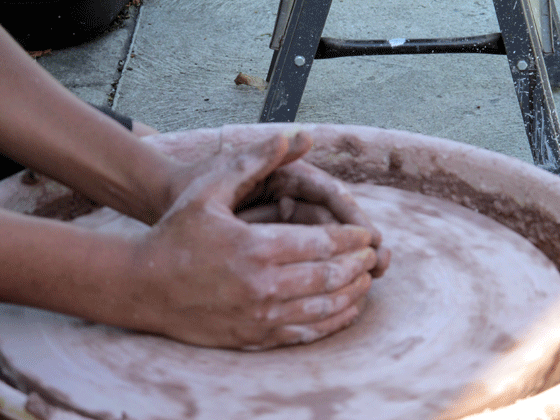 The annual West Medford Open Studios is one of the largest grant recipients. Pictured above: a pottery demonstration at the home of Earl and Tanya Howard during last year's open studios event.
The Medford Arts Council announces its grant recipients for the 2013 calendar year, distributing $17,415 in funding. The 34 funded projects include a River Life Mural Project at the Andrews Middle School; West Medford Open Studios in late April; performances at Circle the Square in Medford Square on Third Thursdays during the summer; a dance performance at the Brooks Estate; CACHE's Third Annual Medford on the Mystic Festival in October; the Medford Public Library's Community Read; and dozens more arts and culture programs serving seniors, school children, and the general public.
The Arts Council's 2013 allocation from the Massachusetts Cultural Council totaled $15,440. Medford Arts Council members and the community increased this amount through fundraising efforts, including local donations from individuals and businesses.
"Arts Council grants enhance our quality of life," says State Senator Pat Jehlen. "Programs funded by the Medford Arts Council benefit so many people from all walks of the community. I'm especially looking forward to the third Medford on the Mystic Festival in October, which does so much to bring us together and celebrate creativity in Medford."
Visit www.medfordartscouncil.org for more information.
A complete list of 2013 grant recipients follows.
CACHE, $850
3rd Annual Medford on the Mystic Arts Festival, October 2013
CACHE, $500
Circle the Square
Celebration in Medford Square, Third Thursday of the month, June-October 2013
Elizabeth Reian Bennett, $365
Japanese bamboo flute performances at the Medford Public Library
Medford Public Library, $700
Four summer family performances
Medford Public Library, $400
Two school vacation performances; February: drummer Craig Harris
April: stories and songs with Sharon Kennedy
West Medford Baptist Church, $750
Jazz Concert Series
Matthew Heaton, $450
Singalongs at Bestsellers Café
Denise Doucette, $575
Musical programs at the Medford Rehab and Nursing Center and the Glenridge Nursing Center
Mystic Valley Elder Services, $300
Art + Experience senior art show and classes
Delvena Theatre Company, $150
Salem Witch Hysteria program at the Medford Public Library
City of Medford, $450
City of Medford Art Inventory
Columbus Elementary School, $250
Historical Perspectives performance: Amelia Earhart
Columbus Elementary School, $250
Tanglewood Marionettes performance: Cinderella
Andrews Middle School Library Media Center, $300
River Day Poetry Workshop for 8th graders
West Medford Open Studios, $1000
WMOS XIV, April 27-28, 2013
Dances by Isadora, $650
Performance at Royall Park, June 22, 2013
Eileen Herman-Haase, $350
Dancing through the Decades with Dance Caliente at the Medford Senior Center
Royall House and Slave Quarters, $450
Returning Copley to Medford; installation of a copy of a John Singleton Copley portrait
of the Royall Family from the Museum of Fine Arts, Boston
Handel and Haydn Society, $800
Levy Educational Outreach Program
Stacie J. Clayton, $850
Community Gospel Concert
Outside The Lines Studio, $900
Photobooth Funhouse
Jennifer DesAutels, $300
Medford Children's Art Showcase at the Meadow Glen Mall
Two Roads Performance Projects, $1300
Dance at the Brooks Estate, June 29 or September 7, 2013
Medford Public Library, $450
Community Read, April-May 2013
Medford Garden Club, $300
Roger Swain Lecture: How-To of Vegetable Gardening
At the Medford Public Library, April 4, 2013
Shelley Gross/Medford Public Schools, $200
Shelley Gross/Medford Public Schools, $300
World Percussion at the Brooks Afterschool Program
Gregory Maichack, Medford Public Library, $250
Monet's Mirror: Learning to Paint Water Lilies, July 23, 2013
Steve Henderson, $175
"Jerry Atric – The Older I Get" (A Short Play)
Andrews Middle School/ Peter Gallagher, $1000
River Life Mural Project
Dee Morris, $600
Our Eternal Treasure: Salem Street Burying Ground
Brooks Elementary School, $300
Lexington Symphony Orchestra field trip
Columbus Elementary School, $425
Lexington Symphony Orchestra field trip
Sandy Strate, $525
Senior Citizen Roadshows
About the Medford Arts Council
The Medford Arts Council is a city-appointed agency of volunteers working to promote excellence, access, education, and diversity in the arts and humanities in order to improve the quality of life for all Medford citizens and foster a sense of community.
The Arts Council funds individuals, community groups, schools, and non-profit organizations for projects that bring music, dance, theater, film/video, visual arts, literature, history, cultural heritage and more to audiences of all ages.
Each fall, the Arts Council reviews grant applications for local arts and cultural projects through the Massachusetts Cultural Council's Local Cultural Council (LCC) program. Grant applications for the next funding cycle will be available in September 2013.
Current Medford Arts Council members: Maria Daniels (chair), Patty Davis, Amanda Fowler, Sarah Grant, Peter Houk, Alexa Mase, Anita Noble, Wanda Strukus, Anita Tucker
– Submitted by Maria Daniels, Chair