Menounos Stars in New Movie Opening March 8
|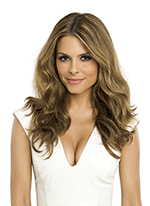 AMC Theatres® (AMC) is proud to partner with filmmakers Maria Menounos, Extra host, and Keven Undergaro to offer guests the exclusive chance to see the theatrical release of their comedy feature "Adventures of Serial Buddies", opening March 8th, 2013.
"Adventures of Serial Buddies", the first serial killer buddy comedy, stars an eclectic cast including Christopher Lloyd, Beth Behrs, Henry Winkler, Artie Lange, Kathie Lee Gifford, Chris McDonald, Menounos and introducing comic newcomers from Improv Olympic and the Groundlings. Together with Producer and star of the film Menounos and Director Undergaro, AMC will release the comedy feature in five major markets across the country. AMC has long supported independent filmmaking and regularly provides guests with distinctive, unique stories and performances through its AMC independentTM (AMCi) division, which will also provide support for Menounos' and Undergaro's film.
"Through AMCi, we not only offer filmmakers the opportunity to reach audiences with a platform that might not otherwise be available, but we're also motivated to provide our guests with new and exciting choices of movies outside of the mainstream selection," said Nikkole Denson-Randolph, vice president of alternative and special content at AMC.
Former MTV Head Writer Keven Undergaro,— who spent a decade working as a 'carnie' in the carnival business— penned the story based on a 'serial buddy' he himself befriended.
"One season in the carnie business I became really good friends with a coworker only to discover later he was a sociopathic killer."
"The world Keven grew up in inspired such a funny, fresh and original voice for moviemaking. 'Adventures of Serial Buddies' blends elements of South Park, John Waters and Kevin Smith, while maintaining a voice that is uniquely, hilariously, its own," said Maria Menounos, who, along with Undergaro, is a Medford native. "Keven, myself and our team have a slate of mainstream films from action to comedy that we are currently packaging. We see this as a great model for other filmmakers to follow."
Access Hollywood's Scott "Movie" Mantz calls "Adventures of Serial Buddies" "seriously funny! Wacky twisted fun."
"An underground favorite and wild ride. The most deranged, insane, hilarious and surprising buddy movie about serial killers and clowns — a fearless farce for fans of funny…and that's a lot of F's," said film critic and entertainment journalist Ben Lyons.
Katherine Tulich of the Hollywood Foreign Press says it "reminded me of great Aussie comedies like Priscilla Queen of the Desert or Muriel's Wedding. Quirky individual characters who go on the road and into your hearts."
John Campea of AMC Movie News describes it as "Dexter meets Dumb and Dumber with lethal charm and fun."
Find out more information about participating AMC locations and how to purchase your tickets at www.serialbuddies.com and at www.amctheatres.com. To follow or join the discussion, follow @serial_buddies, @mariamenounos and use hashtag #serialbuddies on Twitter.
"Adventures of Serial Buddies" opens in select cities March 8th. The local participating theater is AMC Liberty Tree 20 IMAX #2790, 100 Independence Way, Danvers MA 01923. Nation-wide release of the official trailer up now at www.serialbuddies.com. Opening in New York City, Los Angeles, Boston, Chicago and San Francisco.
About Maria Menounos and Keven Undergaro
Extra Host Maria Menounos produced her first 35mm feature film at age 18. Her works with partner, Keven Undergaro, have played nearly every major US film festival. Maria and Keven's pragmatic approach to filmmaking, passion for telling original stories and multiple promotional platforms make then amongst independent filmmakers to watch in years to come. The duo also launched AfterBuzzTV.com, an online broadcast network that exclusively produces recap 'after-shows' for favorite TV shows. Boasting a weekly audience of 20 million, hailing from over 75 countries and a roster of over 100 original shows and over 200 hosts, it is the largest new media platform on the worldwide web.
– InsideMedford.com