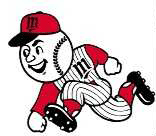 The Middlesex Reds 14U AAU baseball team are seeking players to round out the remainder of their 2013 rosters.
If you're looking to play at a high level and be a part of a strong program that stresses the fundamentals of the game while being challenged in a fun atmosphere by professional coaches, the Reds invite you to make your way down to Medford High School on the following days:
Sunday, March 3rd & Sunday, March 10th from 6pm-8pm in the Medford High School Gym.
Anyone who is interested in trying out can attend the tryout on the March 3rd & 10th and contact the President of the Reds, Joe Chiodo, at themiddlesexreds@yahoo.com or @ 617-875-8088 or current Assistant Varsity Coach @ Medford High & current Middlesex Reds coach Orazio Azzarello @ azz1111@yahoo.com or 617-839-6843 for more information on the program.
You can also read up on the team and program by visiting the program's website at www.middlesexreds.com or check them out on Facebook.
- Submitted by Orazio Azzarello