Restaurant CEO Visits Prison Culinary Program
|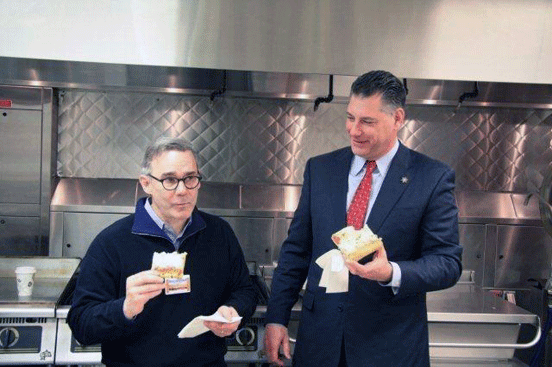 Middlesex Sheriff Peter J. Koutoujian welcomed Legal Sea Foods CEO and President Roger Berkowitz for a tour of the Middlesex House of Correction in Billerica earlier this month.
Mr. Berkowitz visited at the invitation of Sheriff Koutoujian to find out more about the Middlesex Sheriff's Office Culinary Arts Program. The program provides inmates the opportunity to learn a vocation through classroom and kitchen lessons that they can put into practice upon release.
"To have someone of Mr. Berkowitz's stature and accomplishment take the time to visit means a great deal to the program staff and to the inmates enrolled," said Sheriff Koutoujian. "His presence served as a great motivator for both staff and students in the Culinary Arts Program."
Culinary Arts graduates leave the program with a five year ServSafe certificate, a certificate of participation from Shawsheen Valley Technical High School and 12 college credits toward a degree at Middlesex Community College.
– Information and photo from Sheriff Koutoujian's office