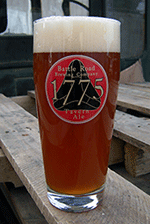 Battle Road Brewing Company will host a tasting of their first two beers, the 1775 Tavern Ale and Lexington Green East India Pale Ale (IPA), this Friday, March 8th at Atlas Liquors in Medford.
The tasting is taking place from 5-7PM at Atlas (156 Mystic Avenue).
Battle Road Brewing Company takes its name from the history surrounding Boston and the Commonwealth of Massachusetts. The Battle Road refers to the Battles of Lexington and Concord on April 19, 1775. These battles showcased the perseverance and resistance against tyranny that were the hallmarks of the American Revolution and marked the beginning of the War for Liberty.
The 1775 Tavern Ale is a light to medium bodied dry, unfiltered pale ale hopped with a single varietal -Slovenian Styrian Goldings. The Lexington Green IPA is dry and crisp, with a clean malt delivery and a burst of hop flavor, and even more aromatics of Chinook, Centennial and Cascade hops added from first wort to the last possible moment before fermentation.
Battle Road Brewing Company was founded in 2012 by Jeremy Cross, a graduate of the prestigious Master Brewers Program at the University of California Davis and Scott Houghton, recipient of multiple Gold Medals at the Great American Beer Festival and a graduate of the Master Brewer's Association of the Americas "Malting and Brewing Science" program at the University of Wisconsin.
Battle Road Brewing Company is currently brewing its beers through Mercury Brewing Company in Ipswich, MA. The beer is being distributed through Baystate Wine and Spirits and is currently available in locations across the Commonwealth. For more information or to find a location, please visit www.battleroadbeer.com.
- Information from Battle Road Brewing Company