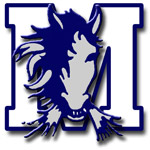 - Allison Goldsberry
After posting solid seasons and qualifying for the state tournament, the girls hockey and boys basketball teams ended their tourney runs last week.
The end came for the girls hockey team with an 8-1 loss to Beverly/Danvers at Salem State University on Saturday.
The Mustang skaters got behind 4-0 in the opening period and that deficit proved too much to overcome, said Coach Dave McCarthy in an email. The final two periods were very competitive, with Medford having the edge in overall play. Junior Brittani Lanzilli had the lone Medford tally. Sophomore Adrienne Porrazzo assisted on the score.
The team's final overall record stands at 11-8-3.
"Congratulations to the team on a fine season," said Coach McCarthy.
On a related note, the points continue to climb for Brittani Lanzilli, who this past season surpassed Shaun Bates for overall points (goals and assists). Lanzilli, a junior, has been playing varsity hockey since seventh grade. She passed Bates in total points on February 9 against Everett with her second point of the game.
The boys varsity basketball team's season came to an end with closely-fought 68-60 road loss to Andover last Tuesday.
Medford had a lead the whole game until the last four minutes.
"We were able to shred Andover's pressure throughout the whole game," said Coach Anthony Faradie in an email after the game. "We did a great job of breaking their full court pressure and we were able to get Sean Doncaster out on the break in transition with the ball in his hands. He was able to make plays and get the ball into the hands of our shooters."
Jhems Lemene opened up the game with two threes and Billy Joseph helped carry the load, pairing him with a couple threes in the first half as well. Joseph finished the with a game high of 22 points, connecting on 4 threes. Doncaster finished with 11 while James Hawkins and Lemene each with 9 a piece.
"I thought our guys prepared extremely well for the game and played their hearts out," said Faradie.
Coach Faradie said it will be really tough to lose the team's seven seniors.
"Sean Doncaster, Jhems Lemene, Jon Pires, Billy Joseph, James Hawkins, Owen Healey, and John Lavoie are all graduating," said Faradie. "Reflecting on their careers, it has been a special run where a lot has been accomplished. Undefeated at home this season, 13-7 overall record and number 9 seed in Division 1 north (both best of the decade)."
"We're going to rest up for a little bit and get right back to work with our younger guys. We will be back; we don't believe in rebuilding seasons here at Medford," said Coach Faradie. "We have had some great successes here and are proud of how far each one of these individuals seniors have came. The coaching staff and players on this team are really a tight knit group of guys that really care for each other and that will not change and we are fortunate for that."