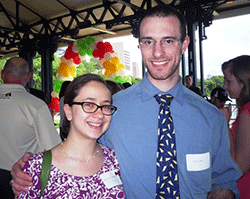 Residents Work to Build Food Security through The Walk for Hunger
Medford has made it back onto the "most generous city" list by Project Bread, the state's leading antihunger organization, for its contribution of over $33,000 to fight hunger through the 2012 Walk for Hunger. The total raised by 41,000 Walkers last year was $3.6 million.
The funds raised through The Walk for Hunger allow Project Bread to provide people with sustainable, reliable access to nutritious food—because the opposite of hungry is not simply full, but healthy. From community-based meal programs, to early childhood and school nutrition initiatives, to improved access to farm-to-table and local food resources, Project Bread funds more than 430 community food programs throughout Massachusetts.
"I like the idea of being part of something big that has a big impact!" says Stephanie Silberstein of Medford. "I think that The Walk for Hunger is a great method for raising money for and spreading awareness about food insecurity in Massachusetts."
In 2012, it was Silberstein's first Walk for Hunger, and as a Heart & Sole Walker she raised $1,215.50. A Heart & Sole Walker raises more than $500 each Walk, and collectively, they contributed over $1.5 million of the $3.6 million raised at The Walk for Hunger in 2012.
To fundraise successfully Silberstein says, "Don't be afraid to ask." She suggests that Walkers send requests and include facts about the impact of the dollars made. For example, $25 provides a hot meal for 40 individuals at a supper program, and $75 subsidizes CSA (community supported agriculture) shares for ten families for one week.
This year, Project Bread hopes to raise even more funds at the 45th Walk for Hunger on Sunday, May 5th. "We can end hunger in Massachusetts, and we are working actively toward that goal," says Ellen Parker, executive director of Project Bread. "Everyone who takes part in our efforts—through walking, donating, or volunteering—helps us do that much more."
The cities and towns that placed on the top ten most generous list are, in rank order: 1) Boston, 2) Newton, 3) Cambridge, 4) Brookline, 5) Wellesley, 6) Somerville, 7) Arlington, 8) Belmont, 9) Quincy, and 10) Medford.
Registration is now open – you can walk, volunteer, and donate at www.projectbread.org/walk or call 617-723-5000.
Pictured above: Stephanie Silberstein and Aaron Bell attended the 2012 Walk Celebration and Awards Ceremony to be recognized for their fundraising efforts. Silberstein raised $1,215 in her first year walking.
- Information and photo from Project Bread