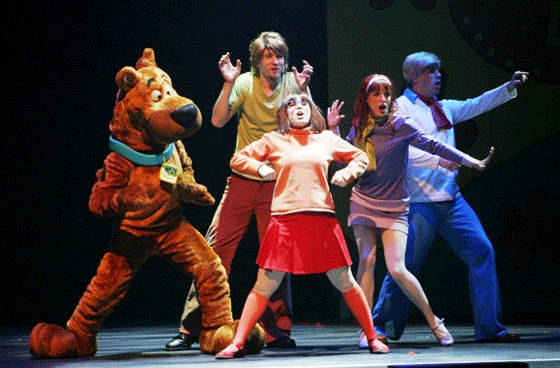 The lovable Great Dane Scooby-Doo and his friends will be on stage in Medford this month when the new family musical "Scooby-Doo Live! Musical Mysteries" is presented at the Chevalier Theatre.
The show, originated in Australia and now touring more than 70 North American theaters with a cast of musical theater professionals, will be live on stage at 2 p.m. on Saturday, March 30 at Chevalier, 30 Forest St., Medford Square.
"Scooby-Doo Live," is based on the television series that debuted in 1969 and is the longest running cartoon on television.
Scooby, of course, is the main character in "Scooby-Doo Live," and his four crime-solving teenage friends are called upon to help solve a mystery: a trouble-making ghost is haunting a local theater and they are on the way in the Mystery Machine to solve it.
The show features big musical numbers including the classic "Scooby-Doo" theme song, "Scooby Doo, Where Are You?" and original tunes written for the production. Some new characters also are introduced in comical scenes.
Tickets for "Scooby-Doo Live" are priced at $22 to $75. The top $75 ticket includes a meet-and-greet session with Scooby Doo and the cast.
Tickets are available through TicketForce at www.ticketforce.com or by calling 877-840-0457.
For further information about this show go to www.chevaliertheater.com or call 781-391-SHOW.
- Information from Chevalier Theater