Teachers' Union Endorses Markey for Senate
|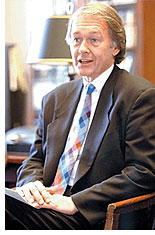 he American Federation of Teachers Massachusetts today announced its endorsement of Congressman Ed Markey in the ongoing race for the U.S.Senate.
"Throughout his career Ed Markey has been an advocate for students and has pushed for reforms that strengthen our public education system and reward effective teaching methods," said Tom Gosnell, President of AFT Massachusetts. "We know Ed will continue working hard in the Senate on behalf of students, educators, and families."
The Executive Board of AFT Massachusetts, who voted on the endorsement Saturday, is made up of elected representatives of the 25,000 AFT members statewide.
"I am so proud to have the support of the American Federation of Teachers Massachusetts, whose members are some of the most dedicated individuals I know," said Rep. Ed Markey. "More than simply educators, our teachers are role models – for our children and for the communities they serve every day. I've spent my time in Congress fighting to provide the best education possible for our children, and I'll continue the fight in the Senate for more teachers, better schools and smaller class sizes."
The AFT Massachusetts, a strong voice for collaborative education reform that is good for students and fair to educators, represents over 25,000 public school employees and higher education faculty and staff.
– Information from Rep. Markey's campaign