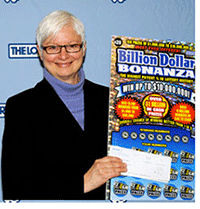 Christine Jantz of Medford claimed a $1 million prize in the Massachusetts State Lottery's "Billion Dollar Bonanza" instant game on March 5.
Jantz is the 95th person to win $1 million playing the $20 game.
Jantz, who works as a self-employed consultant, will receive the prize in annual payments of $50,000 (less taxes) over 20 years.
She plans to undertake home renovations with the winnings.
Jantz purchased her winning "Billion Dollar Blockbuster" ticket at West Medford Spa located at 439 High Street in Medford. The store will receive a $10,000 commission on the sale.
- Information and photo from Massachusetts State Lottery