Green Line Prep Work to Begin April 10th
|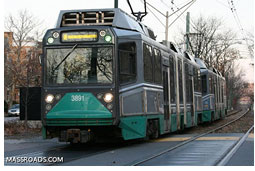 Photo by Alexander Svirsky, MassRoads.com.
– Allison Goldsberry
Preparatory work for the first phase of the Green Line extension will begin Wednesday, according to an email from project officials.
The work will consist of driving piles to support excavation work and installing plans for earth retention near the Harvard Street Railroad Bridge.
The work will begin on Wednesday, April 10 and will continue through Sunday, April 21. Project officials did not say that there would be any lane closures or traffic re-routing.
Work will be done Monday through Friday from 9:35AM-4:10PM, Saturday from 7:00AM-5:00PM, and Sunday from 10:00AM-6:00PM. No work will be done on Monday, April 15 due to the holiday.
According to project officials, the work is contingent upon the completion of utility work in the area, so the start date could be delayed to Thursday.
Barletta Heavy Division, Inc. is the contractor for Phase 1 of the MBTA Green Line Extension Project. The first phase of construction includes the reconstruction of two bridges, the Harvard Street Railroad Bridge in Medford and the Medford Street Railroad Bridge in Somerville. Both bridges will be rebuilt to accommodate the existing Commuter Rail tracks and the new Green Line tracks.
A building owned by the MBTA will also be torn down to clear a way for the eventual extension of Green Line tracks from Lechmere Station. The building is located at 21 Water Street in East Cambridge, according to the MassDOT, and will be torn down "later in 2013."
The first phase of construction will cost $12.9 million.