Medford Woman Killed in Marathon Bombings
|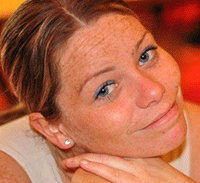 – Allison Goldsberry
A 29-year-old Medford woman is one of the three victims who was killed on Monday in the bomb attacks at the Boston Marathon.
The woman, another victim, and 8-year-old Martin Richard of Dorchester were killed.
Krystle Campbell is a 2001 Medford High School graduate.
Krystle's father, William A. Campbell Jr., told Yahoo News he's in shock that his daughter was killed.
"My daughter was the most lovable girl. She helped everybody and I'm just so shocked right now. We're just devastated," he said. "She was a wonderful, wonderful girl. Always willing to lend a hand."
Campbell said his daughter was at the finish line to cheer on her boyfriend, who was running the marathon.
Krystle's grandmother told Boston.com she watched the marathon every year.
Hordon Health released the following statement on Facebook:
"Please take a moment to read… Light a Candle, Say a Prayer for our loss…
Hordon HEALTH lost a member of its extended family yesterday at the Boston Marathon. Her name was Krystle Campbell, and she died instantly yesterday at the bombings. Krystle could easily have been described as the salt of the earth, but her complexity demands more…
Close friend of Yann Kumin, once a coach for the Boston Institute of Football and HordoN HEALTH, and friend of Marc Hordon, Krystle was seldom caught not smiling, and not expressing her opinion. She was beautiful, she was loud, and everyone loved her for it. Along with the million dollar smile came head to toe freckles and gorgeous bright red hair, connecting her Irish roots and kid-like manor; it was easy to feel ten years younger around her, no matter who you were. She had tremendous passion and energy, and Krystle attacked life with vigor and excitement.
Krystle you will be missed not only by those who knew you, loved you, and cherished you the most, but you will be deeply missed by this world as a whole. Your character, your fortitude, your conviction is something that this world desperately needs and now will forever miss.
Rest in Peace dear child. You are safe. You will always be loved."
Nearly 200 people were injured in the blasts on Monday.
A multi-agency investigation into who is responsible for the attacks is ongoing. Anyone with information, including photos and videos from the marathon that could be helpful, is asked to call 1-800-CALL-FBI.
"This remains a very active investigation. Our ongoing investigation in various locations throughout the area goes on. However, there are no known additional threats," said a statement from the FBI. "We continue to interview various witnesses and process the crime scene, which could take some time. The citizens of Massachusetts and the city of Boston should expect to see the FBI and its JTTF (Joint Terrorism Task Force) partners conducting investigative activity in the greater Eastern Massachusetts and Boston areas."