MHS Girls Softball Team Dedicates Season to Krystle Campbell
|
– Allison Goldsberry
The Medford High School girls varsity softball team held a moment of silence on Wednesday and dedicated their season to Boston Marathon bombing victim Krystle Campbell.
Campbell lived in Medford as a young girl and is a 2001 MHS graduate. She recently lived in Arlington and her family still lives in Medford. A prayer vigil is being held at 6:00PM on Wednesday at Grace Episcopal Church.
The Lady Mustang softball team, wearing black arm bands, defeated Somerville 16-1. The local nine exploded for ten runs in the first inning and never looked back, said Head Coach Jack Dempsey. Freshmen pitchers Ashley Eisnor and Renee Staude combined for a one-hitter while striking out six Somerville batters. Staude, 4-4, was the hitting hero with three RBI's and two runs scored. Sophomore Brianna Napoleone had a big day at the plate with two hits, three RBI's, and three runs scored. Senior captain Katie Napier had only one hit but walked three times and drove in three runs. Senior Christina Lynch had a big double and chipped in with three RBI's.
Other Lady Mustang players contributing to the hitting attack with one hit a piece were senior captain Sam Lopilato, Julia Mitrano, Julia Kearney and Eisnor.
Medford is now 1-4 heading into Friday's game at Revere.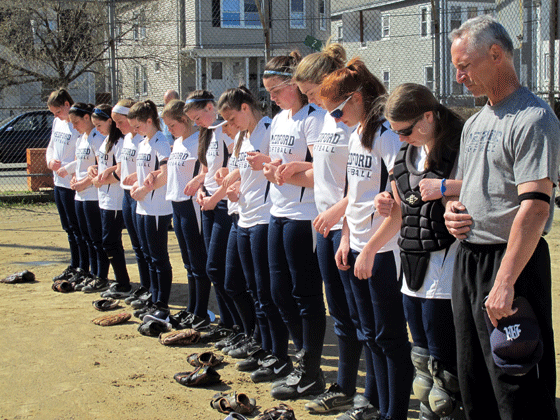 Assistant Coach Charlie Pagliarulo with the girls varsity softball team during Wednesday's moment of silence for Krystle Campbell.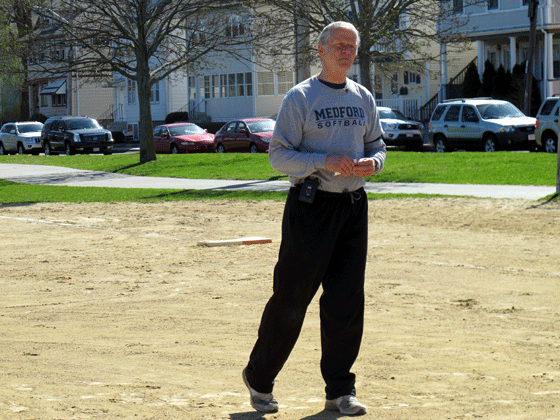 Head Coach Jack Dempsey said a few words about Campbell.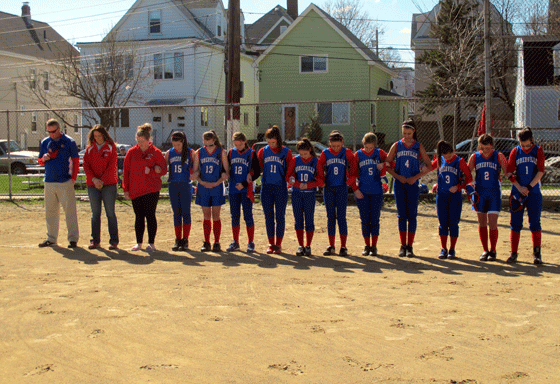 The Somerville softball team and coaches.