Girls Lacrosse Team Earns Close Win Over Lowell
|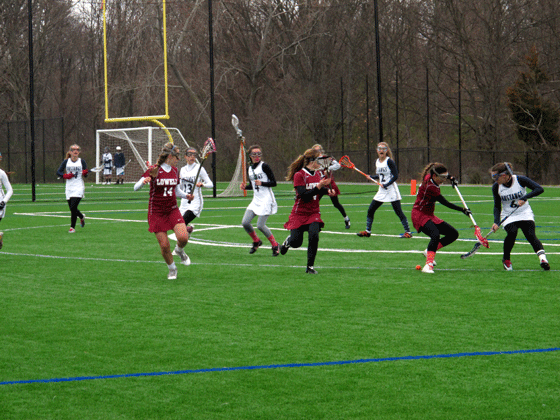 – Allison Goldsberry
The girls varsity lacrosse team pulled out a close 16-13 home victory over Lowell on Tuesday night.
Despite the chilly rain, the Lady Mustangs held Lowell off on their own turf. While Lowell made things interesting, Medford managed to stay ahead the whole game, according to Head Coach Matt Galusi.
"I'll take bad weather if we get a win," said Coach Galusi.
Senior Katherine Timmins led all Mustang scorers with six goals and four assists. Brianna Burke added two goals and an assist. Cassidy LeBert and Hannah Gallup each contributed two goals while Gallup also had two assists. Jamie Traverse had two goals and an assist while Nicole Mortell and Lydia Regan each contributed a goal.
Coach Galusi said he was particularly impressed by a goal scored by defensive player Adrienne Porrazzo, who called her own play.
"She scored that goal because of her heart and her hustle," said Galusi.
Caroline McCarthy was "huge in the net" for the Lady Mustangs.
"She did a great job, I'm really proud of her," said Coach Galusi.
Galusi was happy with his team's effort against Lowell.
"[They] were such a unit tonight…they had each others' backs; they were unstoppable," said Coach Galusi. "When they give their best effort they're a tough team to beat."
Medford is currently 3-2-1 overall and 1-0 in the Greater Boston League. The Mustangs have two home games coming up this week, one against Cambridge on Thursday and another against Central Catholic on Friday.