Robert E. "Bob" Dougherty, 82
|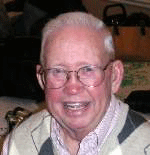 Robert E. Dougherty, age 82, of Woburn formerly of Medford passed away peacefully on April 20th, at the Elizabeth Evarts de Rham Hospice Home in Cambridge following a lengthy illness. He was the beloved husband of Jeanne T. (Leclaire) together sharing 45 years of marriage, and the late Virginia (McSweeney). Born in Medford he was the son of the late Daniel A. and Annie Louise (Perron) Dougherty.
Bob, as he was affectionately known to his family and friends, was raised and educated in Medford and was a 1949 graduate of Medford High School. Bob worked as a General Manager for over forty years with the Crocker & Windsor Wholesale Seafood Co. of Boston prior to his retirement. For nearly thirty years Bob was in charge of video recording Boston College football games, both home and away. He started in 1961 under the head coach Ernie Hefferele. Bob was quoted in an article as saying, "I never really worked a fall Saturday in my life, and I never considered filming BC football games as work. It was fun, a pleasure, something a lot of guys would love to do."
Bob was a true sports enthusiast with an interest many different sporting events. He enjoyed following NASCAR, horse racing and boxing as well as all the professional Boston teams. He was also passionate about the Boston Marathon never missing the coverage from beginning to end for many years. In his leisure time he also enjoyed gardening and was a former member of the Retired Men's Club of Arlington and the Irish American Club of Malden.
In addition to his beloved wife Jeanne, Bob is survived by his loving children, James Dougherty and wife Susan of Winthrop, Paul Dougherty of Medford, Kathleen Andre and husband Chuck of Medford, Edward Dougherty and wife Anne of E. Hampstead, NH, Mary Haney and husband Michael of Hampstead, NH, Patrick Dougherty of Boston, Maureen Thomas and husband Nick of Woburn, Jeanne McDonald and husband Sean of Burlington. He was the loving grandfather of Claire Cunningham and husband Kyle of Houston, TX, Brendan Dougherty and wife Mackenzie of Madison, WI, Leigh Anne Potts and husband John of Viera, FL, Michael and Carla Andre, Amelia Dougherty, Jimmy and Meredith Haney, Alex, Nicholas, Sean, Drew and Ella Thomas, Madison, Meghan, Shannon, Shea and Quinn McDonald and is also survived by seven loving great grandchildren. Brother of the late Jeanne Forrestall.
Funeral services will be held from the McLaughlin – Dello Russo Funeral Home, 60 Pleasant St., WOBURN, Thursday, April 25th, at 9 a.m. followed by a funeral mass celebrated in St. Barbara Church, 138 Cambridge Rd., Woburn, at 10 a.m. Relatives and friends are respectfully invited to attend. Visiting hours Wednesday from 4 thru 8 p.m. Services will conclude with burial at Oak Grove Cemetery, Medford. In lieu of flowers memorial contributions may be made in Bob's memory to The VNA Care Hospice / Elizabeth Evarts de Rham Hospice Home, 65 Chilton St., Cambridge, MA 02138-6801.
– Dello Russo Funeral Services