McLean Lifts MHS Baseball Team to Victory
|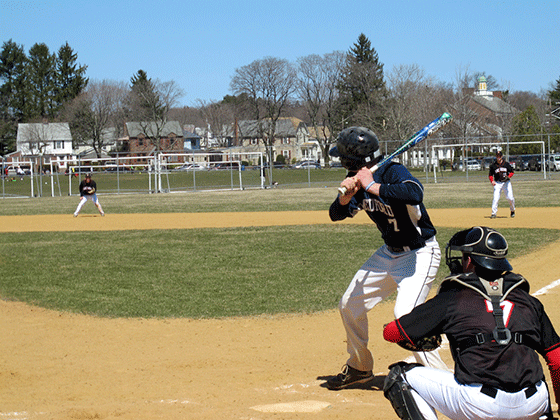 Tyler McLean at bat at Medford's first home game earlier this season.
– Allison Goldsberry
The Mustang baseball team earned a decisive 11-7 home victory over Austin Prep on Wednesday afternoon.
Tyler McLean pitched the last 3 innings to pick up the win. He struck out six and allowed only three hits. McLean also knocked in the go-ahead RBI with a sac fly in the fifth inning.
Dave Center was 3-4, knocking in the game-tying home run and two RBI's. Nick Rocco and Dom Ramasci were each 2-3 with two runs scored. Jake Porrazzo contributed three RBI's while John Lavoie added two.
Medford is 7-1 heading into Friday's big home game against Everett. The game is at 4pm at Playstead Park.