Sheriff Speaks at Armenian Genocide Commemoration
|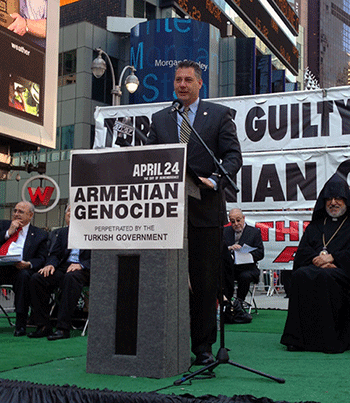 Middlesex Sheriff Peter J. Koutoujian traveled to New York Sunday, April 21, to speak at the 98th Anniversary Commemoration of the Armenian Genocide.
The event, held in Times Square, focused on the estimated 1.5 million Armenian lives lost in the genocide. In addition to Sheriff Koutoujian, speakers at the event included U.S. Senator Charles Schumer and Dr. Dennis Papazian, Professor Emeritus of History at the University of Michigan- Dearborn.
"We have to pass on the lessons of patriotism and perseverance," said Koutoujian. "It's been my life's work to bring recognition to the Armenian Genocide."
In addressing the thousands in attendance, Sheriff Koutoujian talked about his family's own experience with the Armenian Genocide, noting his paternal grandparents Abraham and Zarouhi Koutoujian fled their home in Marash during the genocide, seeking refuge in the United States.
Sheriff Koutoujian's efforts were recently recognized by the Armenian government when he was presented with the Mkhitar Gosh by Prime Minister Tigran Sargsyan this past December. The medal is awarded to those who make notable state, public or political or diplomatic contributions.
– Information and photo from the office of Middlesex Sheriff Peter Koutoujian