Mustang Girls Lax Team Qualifies for State Tourney
|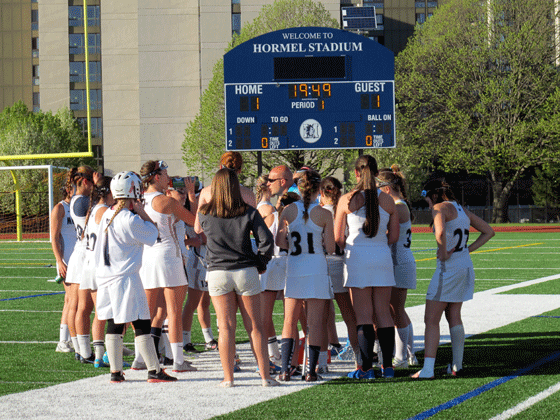 – Allison Goldsberry
The Medford High School girls varsity lacrosse team secured a trip to the state tournament with their fifth straight undefeated Greater Boston League title on Wednesday, according to Head Coach Matt Galusi.
The Mustangs sealed the deal with a 15-3 road win over Cambridge.
Many Mustangs got in on the "fast and furious" scoring said Coach Galusi. Cassidy LeBert and Hannah Gallup each had three goals and two assists. Katherine Timmins contributed two goals and an assist. Brianna Burke, Lydia Regan, Danielle Mason, Catherine Darnell, Cassie Green, and Hailey Massa each added a goal. Defensive player Desiree Savoia scored a "very pretty goal", said Galusi, while Jamie Traverse and Kali Umlah each had an assist.
"This was a tremendous team win with everyone playing in the game and everyone contributing," said Coach Galusi. "We led at halftime 8-0 but we were not in sync at all. I stressed to the girls the importance of getting it together and taking it to the next level as we prepare for the tournament. They responded by scoring goals four seconds and sixteen seconds into the second half."
Non-scoring players also played key roles.
"Catherine Darnell was impressive in the face off circle, winning every draw she took," said Galusi. "Although Caroline McCarthy didn't see too many shots in the net, she made some great saves."
Medford hosts Matignon on Thursday. Senior Night is May 20th when Medford hosts Brookline. The Mustangs finish up the regular season on May 23rd at Brookline. State tourney seedings will be available on May 24th, according to Coach Galusi.
"We have a saying this season that teams had better get us early because you won't get us late; looking at the calendar it is definitely late!" Said Galusi.