Former Mayor to Appear in WWII Documentary
|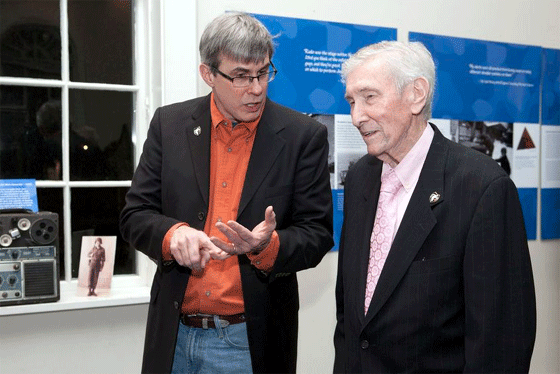 Former Medford Mayor Jack McGlynn, father of Mayor Michael McGlynn, was part of a top secret "Ghost Army" during World War II.
Rick Beyer's new documentary, The Ghost Army, is about the "astonishing true story of American G.I.s who tricked the enemy with rubber tanks, sound effects, and carefully crafted illusions" during World War II.
Sgt. Jack McGlynn, who later served five terms as Mayor, was in the sonic unit.
McGlynn is pictured above with Beyer.
Hear all about "the Ghost Army" in a special documentary premiering on PBS on Tuesday night at 8:00PM.
Watch a trailer below:
Watch Preview on PBS. See more from The Ghost Army.
Read an article by Boston Globe columnist Juliette Kayyem by clicking on the link below:
The loyal magicians. #GhostArmy, the lost "art" of warfare, & soldiers who kept secrets. My column: b.globe.com/18WVVRM (watch @pbsTu.)

— Juliette Kayyem (@juliettekayyem) May 20, 2013
– InsideMedford.com