Mustang Softball Team Clinches GBL Title; 1st in 15 Years
|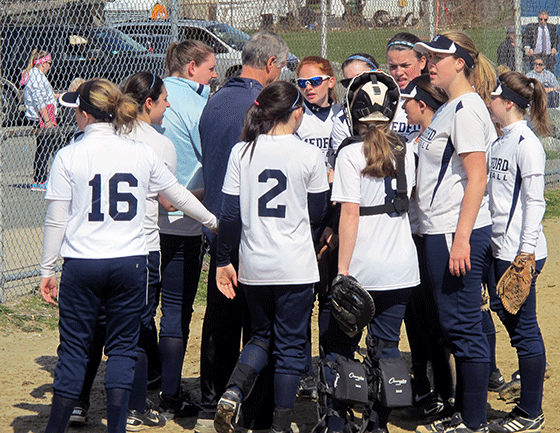 – Allison Goldsberry
For the first time since 1998, the Medford High School girls varsity softball team clinched the Greater Boston League title.
The Lady Mustangs became GBL champs with a thrilling 2-1 home victory Monday over four-time league champion and defending Division 1 Eastern Massachusetts champion Golden Tornadoes of Malden.
"The Lady Mustangs had previously earned at least a tie for the GBL top spot but would not settle for a piece of the pie with friendly arch rivals Malden and Everett," said Head Coach Jack Dempsey. "So, with the huge victory the local nine won sole posession of first place in a hard fought game."
Freshman pitching sensation Ashley Eisnor was once again a force, allowing only one run, three hits, and one base on balls while striking out eight Malden batters, said Coach Dempsey. Eisnor was also the batting hero, driving in both Lady Mustang runs, with a sac fly in the second inning and a single in the sixth that scored senior Michaela Mitrano with the winning run. The Malden nine did not go without a fight, scoring a run in the seventh inning before Eisnor closed the door, with the tying run stranded at third base to end the game.
The Lady Mustangs' hitting attack was led by senior captain Katie Napier (a single and double), Brianna Napoleone (two hits), and Hannah O'Leary (a double, single, run scored, and stolen base). Senior captains Lauren Walsh and Sam Lopilato each banged out singles along with senior Christina Lynch. Sophomore catcher Julia Kearney came up big, throwing out a Malden speedster at second base late in the game to preserve the victory for the Medford nine.
Medford finishes up the regular season with six non-league games in seven days. The Mustangs play a home and home series with Winchester on Tuesday and Wednesday and head to Middlesex League leader Lexington on Thursday. Medford visits Revere on Saturday before a home and home series with Arlington on Sunday and Memorial Day.
The Lady Mustangs are awaiting state tournament seedings, which come out next week.